Most Important features and trends online Slots 2019
Slots are very popular at online casinos, in land-based casinos and in arcade rooms across the world. We all love slots. When we play at an online casino we play slots all the time. We love classic slots, jackpot slots and Video Slots.
When a game provider launches a new game we start playing the game immediately. As real slots lovers we try every new slot. New slots are often innovative with great designs, new features and amazing themes. More and more game providers choose amazing themes for their slots. They close a partnership with companies like Disney, Marvel, Warner Bros, Hasbro or Jumbo. The design teams are getting better and new slots have more innovative ways to win and better bonus features.
We always play new slots with real money when we review the slot. Normally we play with €0,40 – €0,60 per spin. While playing with real money you feel the real excitement of online gambling. When you play for fun you don't feel the real experience and the excitement of online slots.
Important Features and innovations online slots 2018 and 2019
The last 10 years online slots changed a lot. 10 Years ago you could only play classic slots with 3 or 5 reels. Slots with only 1, 3 or 5 winlines. And you could only play these slots at arcade rooms or at land-based casinos. The last few years this environment changed a lot. Online casinos opened their virtual doors and over 50 companies started developing online slots. Now you can play video animated slots with over 200 winlines and animated bonus games. Game providers create and develop new bonus games and random features frequently.
At the moment you can play over 3.000 different Slots when you join Videoslots.com. Videoslots is the biggest online casino in the world. They launch new slot games every week. I can imagine that you have no idea which features, bonuses and themes are trending at the moment. On this page I am going to tell you all about the most important online slot features of the past few years and for 2019.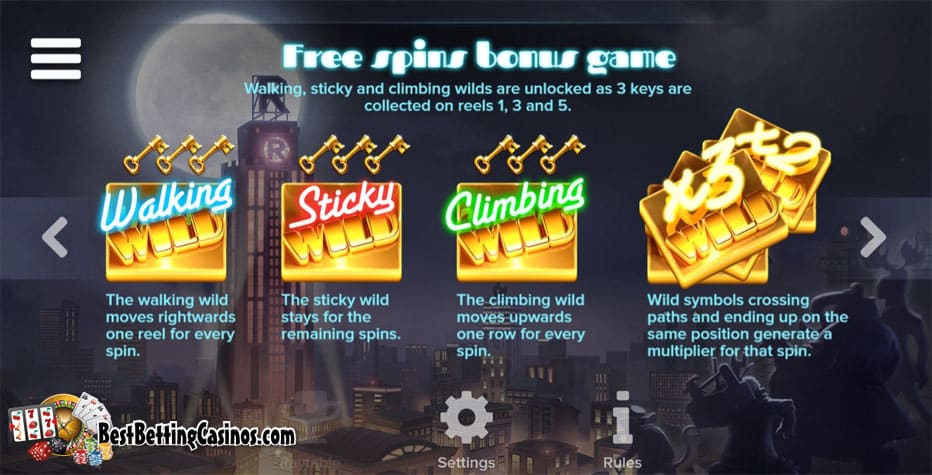 More Bonus games and random features
Classic slots don't have any bonus games or random features. You can only win money when you hit a winning combination on one of the available winlines. A few years ago online casinos introduced video animated slots. These games are called Video Slots. Video Slots are very popular because you can trigger exciting bonus games and sometimes random triggers. A few years ago video slots had 1 or 2 bonus games and no random features. But in 2018 and 2019 online slots have a lot more exciting stuff. There are video slots with 10 different bonuses.
Spinal Tap is a very popular game. This game is developed by Blue Print. When you activate the "Rock Mode" in this game you can trigger one of the 8 bonus features. This is one of my favorite games because it is always surprising which bonus game you are going to activate. Each bonus game is different and with all of them you can win big wins. Spinal Tap is also one of the video slots where you can buy the bonus feature. The buy inn depands on your bet amount.
Bonus games are video animated and feature a lot of different ways to win. In the past you received a number of free spins with a multiplier. But since a few years you can trigger multipliers, stacked wild symbols, expanding wilds, random wild, retriggers and more amazing features.
A few video slots give you random features while you are playing. Birthday (developed by Elk studios) has a random doorbell feature. When the doorbell rings you trigger one of the 5 bonus features. So every spin you can trigger the doorbel. With this feature every spin is exciting.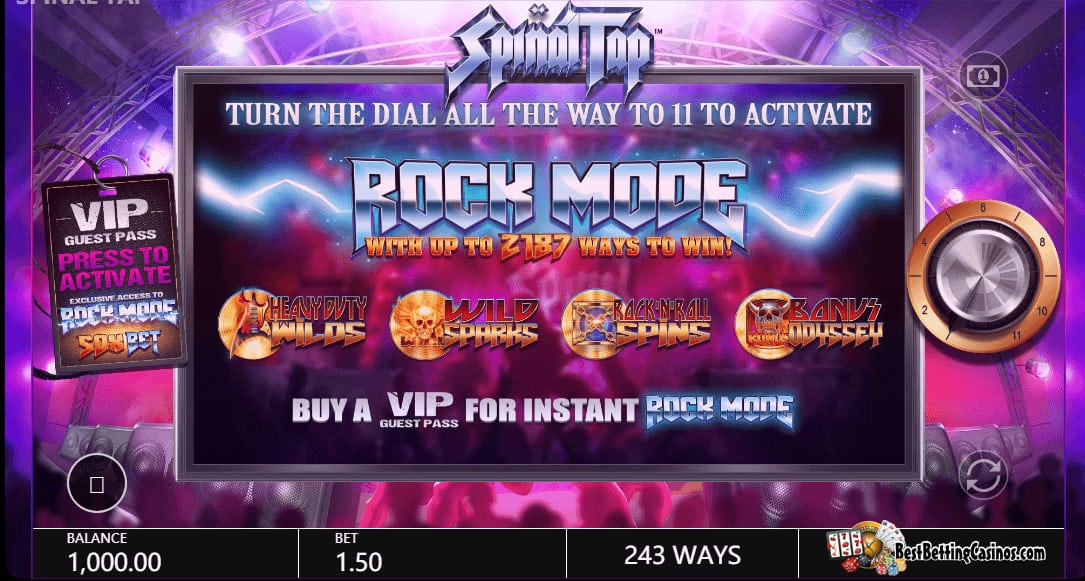 More Winlines
In the year 2000 the first online slots were launched. Those slots looked like the classic slots you found in bars, arcade rooms and at tankstations. They used to have 1 or 3 winlines. Only a few old classic slots had 5, 10 or 20 wilines. When we have a look at the recently launched video slots we see games with 50, 100 or even 1.000 winlines.
There are a few slots with over 100.000 ways to win. These slots are very popular because people like to win. When you play video slots with 100.000 winlines you hit more winning spins. You win lower amounts of money but it feels like you are winning all the time. Bonanza, Extra Chilli and Primal Mega Ways are very popular games. Every spin you have a different amount of winlines. The maximum amount of winlines at thse games is 117.649.
Buy a bonus game
Bonus games are the number one feature at online slots. When you start playing a video slot you want to trigger one of the bonus games as soon as possible. Bonus games are fun and they the easiest way to hit a big win. In the normal game mode you can hit big wins. But at bonus games you have a much bigger chance of hitting a big win or a mega big win.
At the moment there are a few video slots were you can buy the bonus game. They call it the "Feature drop". You pay an amount of money and you can start playing the bonus game. Buying a bonus game can be very expansive. The buy inn amount depands on your bet per spin. The higher your bet per spin the more you have to pay when you want to buy the bonus feature.
In the video slot you see a "buy" button. Above the button you see the amount of money you have to pay when you buy the bonus feature. This amount can decrease while you are playing the normal game. When you hit bonus symbols the buy inn amount decreases a bit.
Popular slots with with the feature drop function are: Joker Strike, Extra Chilli, White Rabbit, Spinal Tap and Monopoly on the Money.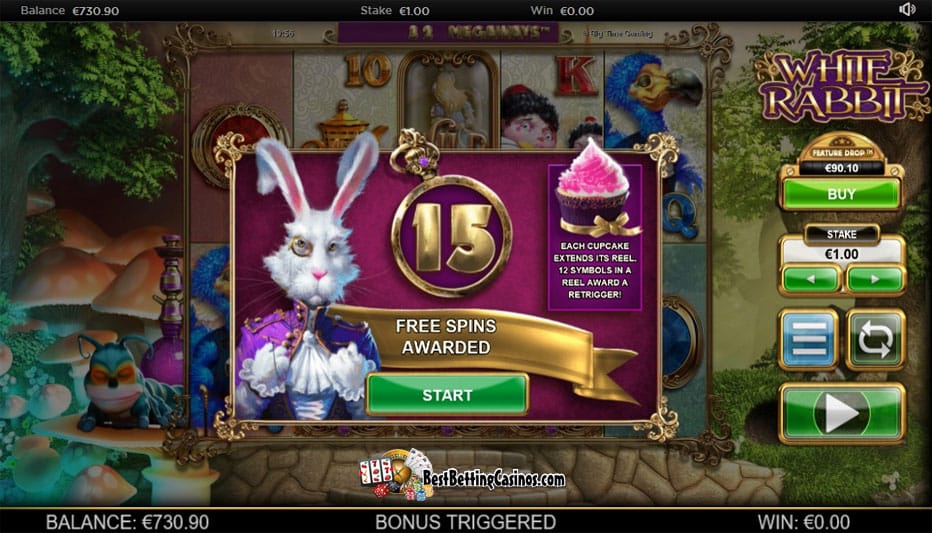 More Exclusive slots at online casinos
On the internet there are a few big online casinos. These casinos have a lot of influence when it comes to new games. Online Casinos often develop exclusive games with game providers. An exclusive game is a game that is build for certain casinos. You can only play this game at one online casino or at online casinos operated by the same company. An exclusive slot can also be a slot that is available at one online casino for a certain time period. This casino has the exclusive right to launch this game. Other online casinos can launch the game after the exclusive period ends.
NetEnt and Microgaming often launch eclusive games in cooperation with big online casinos. LeoVegas and Dunder Casino frequently launch exclusive games at their casino.
Music, TV series and Movie themes are very popular
Big game providers manage to close deals with movie companies, music artists and tv shows. At the moment it is trend that game providers develop games with a theme. Themes often are based on popular people, new movies or popular tv shows on Netflix or HBO. In my opinion it is very smart to use these themes because millions of people around the world already know the artists, movies or tv shows. The game sells itself. When casino players see a themed game and they like this theme they will try the game for sure.
Recently game providers launched the following online slots with a popular theme: Spinal Tap, Guns 'n Roses, South Park, Jumanji, Narcos, Vikings and Terminator. NetEnt and Microgaming are two game providers that launch a lot of new online slots with a popular theme.
In 2019 NetEnt, Thunderkick, Microgaming and Play 'n Go will launch a few new games with a theme. One of them is a video slot with the Village People in it.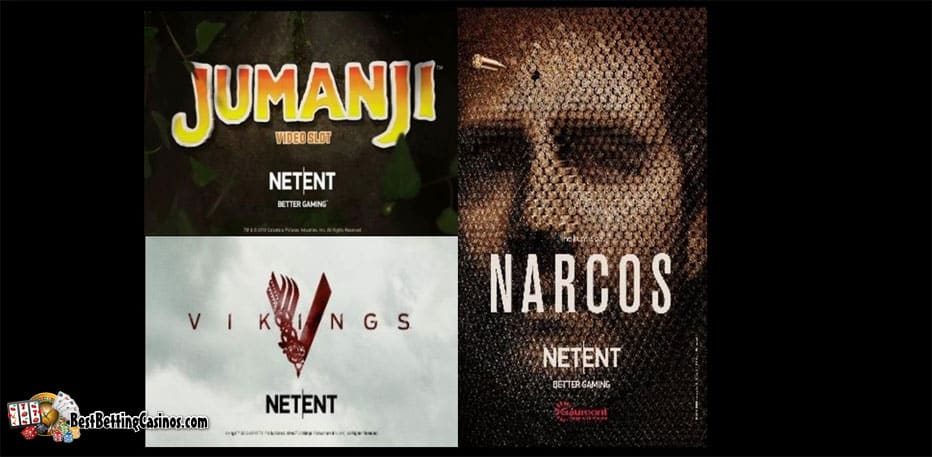 More video slots with a high Volatility
Every online slot has a volatility rate. The higher the volatility the higher the prizes you can win. When you play online slots with a high volatility you have to be lucky. The return to player value on these games is much lower than at other online slots. But when you are lucky while playing a high volatility slot you win super high prizes.
Big time Gaming is the game provider with the most high volatility games. Popular games are Bonanza, Extra Chilli and White Rabbit. When you are in an unlucky streak at these games you can lose a lot of money in a short period. But when you trigger a few bonus games you can win up to 180.000 times your bet amount. You can win €180.000 when you play with €1,00 per spin.
An other popular game provider with high volatility games is Push Gaming. They recently launched Jammin' Jars, Turn it up and Fat Rabbit. When you play games from Push Gaming you can win up to 100.000 times your bet amount. Jammin' Jars won the Video Slot Award for best High Volatility Game this year.
Netent is know for their low volatility games. Since other game providers launched high volatility games NetEnt is losing market space. With their new strategy they hope to win back some market in 2019. They now launch MAX versions of existing games. MAX games have high volatility.
A lot of New game providers entered the online gambling industry
Over 70% of all online gamblers plays video slots at online casinos. Video Slots are the most popular games at online casinos. Also at land-based casinos a lot of gamblers play at slot machines. Companies see how popular video slots are. And they enter the online gambling industry. It is expansive to develop a nice slot because companies have to develop, design and test the game. Game providers can only launch a new game when it is tested and checked by gambling commissions.
When a game provider launches a successful video slot it is a real cash cow because all online casinos will add it to their game portfolio. The online casinos do the marketing for the game. Game providers receive a game contrubution when players use the game.
5 Years ago there were 5 popular game providers: NetEnt, Microgaming, Playtech, Novomatic and Real Time Gaming. In 2019 there are already over 100 different game providers. The most popular ones are Play 'n Go, ELK Studios, Pragmatic Play, Big Time Gaming, Nextgen, Thunderkick and Red Tiger Gaming.

Play Video slots at the best online casinos
Video Slots are very popular at online casinos. And their popularity is still growing because of the amazing innovations in the last few years. casino players love to play games with random bonus features and bonus games. Video Slots are much more exciting than classic table games or classic slots. There are nog classic casino games were you can win 100.000 times your bet amount. At video slots you can hit huge wins like this.
It is very important that you play online slots at reliable online casinos. In the table below you find an overview of the Top rated online casinos with online slots. We also give you the opportunity to try a few casinos with €5 free play money or €10 free on registration. Or you can choose a casino that offers you 50 free spins on a popular video slot.
CASINO
REVIEW
BONUS
RATING
REGISTRATION
PLAY
Videoslots


T&C Apply

€10 Free + 11 Spins
100% Bonus

Not available
PlayGrand
50 Free Spins
150% Bonus
50 Free Spins
Jonny Jackpot
50 Free Spins
100% Bonus + 100 Spins
50 Free Spins
N1 Casino
50 Free Spins
150% Bonus
50 Free Spins
Dunder
50 Free Spins
200% Bonus + 180 Spins
50 Free Spins
LeoVegas
€1600,- Bonus
300 Free Spins

Up to 50 Free Spins
Casumo Review
200 Free Spins
100% Bonus
20 Free Spins
21Casino
21 Free Spins
121% Bonus (€300,-)
21 Free Spins
Trada Casino
50 Free Spins
150% Bonus
50 Free Spins
Casilando
10 Free Spins
€300,- + 90 Spins
50 Free Spins