AffiliateCon Sofia 2019 – We are attending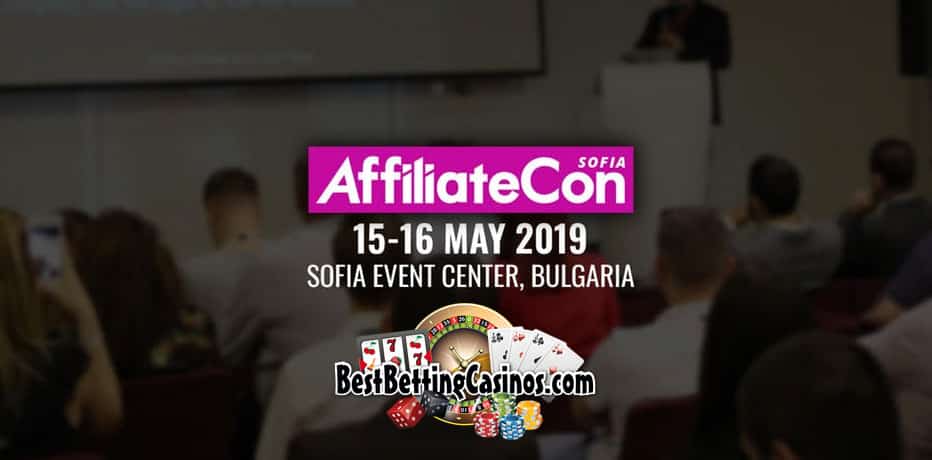 This year we decided to attend AffiliateCon Sofia. Although we are not really focusing on Eastern Europe countries (except Poland) we think it could be very interesting to explore these markets. In March we met the organisation behind this relative new event. We had a meeting with them in Stockholm during the Nordic Affiliate Conference. During a drink and some food they convinced us to attend AffiliateCon Sofia. As a relative big affiliate we are lucky because we receive a free stay at the official hotel. As the organisation pays our 2 night stay in the Festa Hotel. And our flights are also free (Thanks to LVBet and Energy Casino). All by all we are really looking forward attending this new Affiliate Conference in Sofia. Further down this page you find all the information about the event. And you also find a Bonus Code that upgrades your conference ticket to a VIP Pass.
After the conference we will add a short summary to this page. We will give you our honest opinion about the event and the city of Sofia.
About AffiliateCon Sofia
This year is the second edition of AffiliateCon Sofia. The event is held in the Sofia Event Center in Bulgaria. This year the conference is 2 days (15th and 16th May 2019). There are 2 days full of networking opportunities, educational speeches, entertainment, parties and exquisite food. Both days in the event center are packed with expert speakers, debates, speed networking and round tables. Inbetween business there is room to socialise on the balcony in a relaxed atmosphere. VIP attendees can enjoy exquisite food and drinks throughout the day.
At the and of the day there are network drinks and an evening party with complimentary drinks. And during the network party there will be a special guest.
Who are attending AffiliateCon Sofia 2019?
AffiliateCon is an event for iGaming affiliates. Affiliates from all over the world fly to Sofia. These affiliates are interesting for Online Casinos and Online Bookmakers. The organisation already has an interesting amount of companies that will attend the event. Each company has his wn little booth in the Sofia Event Center. Affiliates are able to drop by the booths and they can sit down with representatives of the companies in a relax atmosphere. At each booth you can enjoy free drinks and food. And most companies also have nice give-aways for visitors.
You can meet the following companies at AffiliateCon Sofia 2019:
Kindred
7Stars Partners
Count Monte Cryptos
Activewins
Genesis Affiliates
Netopartners
Karamba Partners
EWaffiliates
Energy Partners
Lapalingo
Bet365
PariMatch
LVBet partners
These companies represent a few big online casinos and sports betting websites. When you visit AffiliateCon Sofia you can meet with famous brands like: Bet365, Casino Cruise, Lapalingo, Karamba, Gratorama and LVBet.
Want to visit the event? Become a VIP
AffiliateCon Sofia is free for all affiliates. When you have a website related to iGaming, gambling or sports betting you can attend this event for free. You can also attend the event for free when you are a PPC or Email marketeer. Simply open the AffiliateCon website and register a free account. Your registration will be checked by the organisation. They check if you are a real affiliate and not a network or an operator. When you are a real affiliate your registration will be approved within a day or two. After that you are ready to book your flights and hotel.
Via our website you are able to upgrade your ticket to a VIP ticket. Want to become a VIP? Sign up at the event and use bonus code VIP during the registration process. The organisation will check your registration and when it is approved you are a VIP. As a VIP you have the following extra preferences:
Fast track entry to event and evening party
Priority Seating during keynotes
Access to the VIP room with chillout DJ
Accesss to sweet shop and free bar
Private Terrace
Guest at NWM Marketing's booth at the party
Ready to become a VIP? Click on the image below and sign up at AffiliateCon Sofia.

Expert Speakers
During the main event days there are a few interesting panels, debates and Key notes. The following speakers are announced at the conference:
Lyubomir Popov – Founder SEM.bg
Gennadiy Vorobyov – Co-founder, Netpeak
Stanislav Dimitrov – Founder, Konversa
Nikola Minkov – Founder, Serpact
Allan Turner – Founder, Mustard Digital
Tom Wade – Co-founder, Sick Odds
Nick Pateman – Co-founder, Sick Odds
Yiannis Kranitis – Industry Manager, Google
James Scicluna – WH Partners
What can you expect at this conference?
The conference is 2 days and both days are packed with interesting things to do. Let me tell you a bit more about the schedule.
15th May 
Maximising Revenue (Allan Turner)
SEO Expert debate
How to engage with eSports Betting (Sick Odds)
Lunch Break
Keynote: Trends and insights from international markets
Legal Update
Affiliate Huddle (4 Mega Affiliates)
Pre-Party with Dani Sax vs DJ Adz
16th May
Facebook marketing for Affiliates
SEO Expert Debate
Brand Viewpoint (How do affiliate programs think about the market)
Lunch Break
GDPR – Is it as hard as we think?
Closing drinks
Want to meet our team?
Koen and Dave are attending this years AffiliateCon in Sofia. You can meet them if you like to. They will arrive on 14th of May and they will leave lste on the 16th. Want to meet us? Use the contact form on our website and schedule a meeting with Koen or Dave (or Both).