Summary rating from
2
user's marks. You can set own marks for this article - just click on stars above and press "Accept".
Accept
Sugar Pop Slot
Sugar Pop Slots is a brilliantly designed slots machine that redefines the conventional appearance and spinning of reels on slots machines. BetSoft is one of the world's highest rated gaming software developers and with a look at this particular game, one can easily tell why they deserve such a high ranking.
Released in late 2013, Sugar Pop slots has become quite popular with many online slots enthusiast. This game presents a gaming interface that brings together the idea of spinning reels slots and arcade games. The symbols on the reels are 3D animated making it even more catchy and entertaining.
Symbols
The theme of this game will make you think of riding unicorns to rainbow land filled with candy. The icons serving as symbols are all various kind of candy. Sugar Pop slots is all about bright colors. You will have seven basic symbols which are all types of candy in bright colors such as pink, green, red, yellow, purple. Most of these symbols come with additional special powers which offer even better payouts.
The layout of this game features 5 reels and five rows. The reels are placed in a futuristic candy making machine that floats in pink clouds.
Sugar Pop Slots is different from other slots machines in that the game is based on levels. This means that as you record more wins, you progress to another advanced level. These advanced level unlocks even more candy symbols with more power and better rewards.
Gameplay
Playing Sugar Pop slots is a little different from playing the conventional slots machines. However, some of the basic rules of playing slots still apply. For instance, the overall objective for you to win is to have matching symbols aligned. You will also find the 5-reel layout familiar with all the control buttons placed at the bottom of the reels. To the right side of the reels is a large bubble that fills up every time you earn points towards progressing to the next level. Once this giant bubble has completely filled up, you unlock the next level and progress on the journey to the four amazing worlds of candy land.
Rather than the usual payout schedule with a limited number of paylines, Sugar Pop offers more than 200 ways in which you can align the matching symbols.
You will be required to have at least three matching symbols aligned. In Sugar Pop, you are not limited in the direction to which the symbols should align. All you need is to ensure the matching symbols are side by side to each other either horizontally or vertically. When you have such a formation, the matching symbols will pop and make way for new symbols. If the new cascading symbols also match, the animated explosion will go on until there are no more possible matching symbols.
Each of this animated explosions of symbols not only earns you more wins but also gives you the much needed points for progressing the level of the game.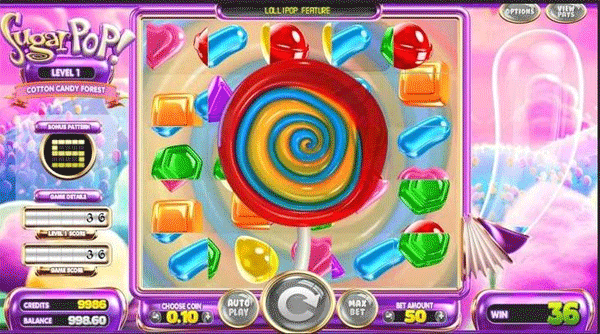 Betting Options
Besides offering great entertainment, Sugar Pop slots can be a great way to win some extra cash. For you to begin this journey into candy land, you will first need to determine your bet size. You can adjust the amount you wager using the various coin sizes available.
The betting coins come in six different denominations ranging between $0.02 and $1.00. For every spin, you will have to wager at least 50 coins. This amount can be increased up to a maximum of 250 coins. This gives the game a maximum possible bet of $250.
Bonuses and Special Features
Sugar Pop slot is filled with amazing bonus features that make the game play not only entertaining but also highly rewarding. As you begin playing, you will realize that each type of candy has its own unique special powers. If you can align more than three candies, then you will discover even more special symbols. For instance, if you get four candies of the same type aligned, then you unlock the special 'Super Color' candy that awards multipliers for your wins. Five matching candies on the other hand activate the 'Color Bomb' which make all other candies of the same color on the reels explode, giving you better payouts.
There 20 different levels in this game and they are categorized into four unique worlds. As you progress from one candy world to another, you will be unlocking more special candies. You can have up to 9 such bonus candies each with unique powers. For instance, there is the chocolate symbol that turns all the candies nearby into exploding chocolate bars. The most exciting of the these is the jawbreaker that flies around the reels destroying other candies and awarding even more points.
BetSoft with Sugar Pop Slot
BetSoft have yet again produced an exciting video slots game. The captivating story line and vivid animations bring the action to life. If you are looking for an engaging online slots machine with some impressive graphics and audio effects, then you should check out Sugar Pop Slot. In addition, the game can be played on mobile devices thanks to the ToGo mobile gaming platform developed by BetSoft.
Tip: try more than one online casino. The more you try the more free play money you can earn. The more money to play the higher the chances of winning a nice amount of money.