Unique €0,00 bonus game at new Monopoly video slot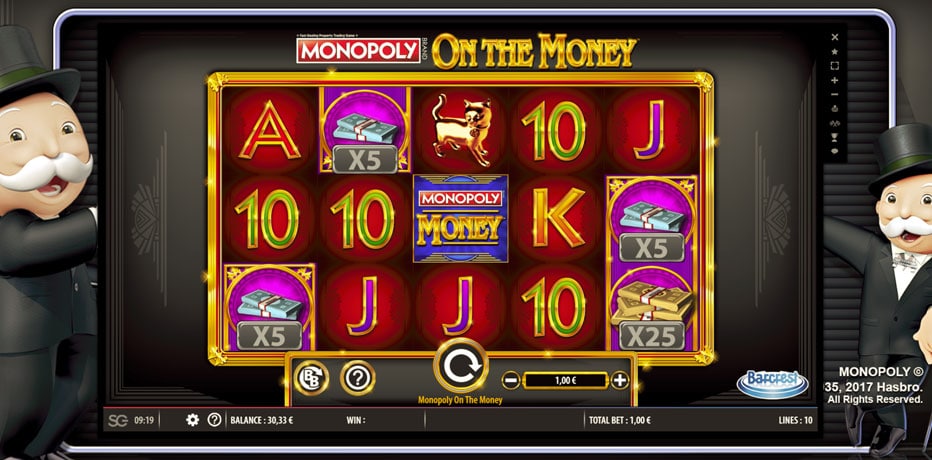 Always when there is a new video slot online I get excited. Let me be honest with you. When Jadestone – WMS (Williams Interactive) launches a new game I get really excited because this is my favorite supplier of online casino games. In my top 5 favorite video slots there are 3 games powered by Williams Interactive (Glitz, Raging Rhino and Montezuma). this week WMS launched another new game and this game listens to the name Monopoly On The Money. As a child I loved to play Monopoly with friends and family. I think in those days I was already intimidated by the big money and buying houses and hotels.
All the ingredients for a good game I guess. Of course there was no time to waste and I logged in to my casino account at Dunder Casino because this is one of the casinos that offers the full portfolio of WMS games. There are not a lot of casinos that offer all games provided by Williams Interactive. On top of that I still had an open deposit bonus at Dunder Casino. In my account there was a 50% deposit bonus waiting for me. So I made a €30 deposit and I received €45 from the casino to play with.
If you want to try Dunder Casino you receive 200% bonus when you are a new player. Click the underneath button to claim this 200% bonus.
Play Now!
Review
Monopoly On the Money – A bit more game information
Before I am going to tell you guys about my first experience with Monopoly on the money I will give you a bit more game information. The game has 5 reels and on every reel there are 3 symbols. In total there arw 10 win lines in the normal game. You can start playing with €0,10 per spin and the maximum bet per spin is €500. So the game is perfect for all kinds of players. On the reels you see the typical Monopoly symbols like the cat, the dog, the classic man and the Head. Spread over the reels you find a huge amount of money symbols with multipliers on it. The multipliers are only valid when you are playing the bonus game. Read more about the bonus game a bit further down this page.
The money symbols are all the same value in the normal game. When you hit 3 money symbols you receive 1x your bet, 4 money symbols 5x your bet and 5 money biljets are worth 20x your bet. Of course the symbols need to be on a win line. On the reels you also find "Go to Start" symbols. when you hit 3 or more of these symbols you trigger the bonus game at Monopoly on the money.
Click here to play Monopoly on the money at Dunder Casino with 200% first deposit bonus
My first experience at Monopoly video slot
Ok let me take you back to my first experience with this game powered by Williams Interactive. As mentioned I decided to start playing the game at Dunder Casino because I had a 50% bonus open at that casino. With a €30 deposit I earned €15 extra to play with. I am not a big player because I always think it has to stay fun. that is why I normally play with €0,50 up till €1,00 per spin. When I play a new game i rather play with low stakes because you have no idea what you can expect of the game. So i started playing Monopoly with €0,50 per bet.
After a while I hit 3 "free spins" symbols and that means I triggered the bonus game. In underneath video you see how the bonus game at this game works.
Unbelievable!!!! €0,00 Win on a special bonus feature!
When you take a look at the above video you see exactly how the bonus feature works at Monopoly on the money. When you trigger 3 "free spins" symbols you receive  at least 10 free spins in the bonus game. With 4 symbols you receive 15 spins and with 5 symbols at least 20 spins. I say "at least" because you can have a gamble with your free spins. I had the chance to gamble to 12 or 7 free spins. I took the 10 free spins because it was my first ever bonus game at the video slot. everything is new and I was really excited (as you can hear on the movie).
As the free spins went by the prizes stayed away. What normally is a real cash cow at Williams Games now was a big disappointment. After 10 free spins I had an unbelievable win of €0,00. I am not lying, i did not win 1 single euro during a free spins bonus feature. Unbelievable in my eyes! How was this possible.
Normally I would stop this game directly but I was curious if the bonus game could give some interesting amounts of money or not. So I continued playing the game and a few minutes later I triggered the bonus game again (see underneath movie).
This is how the bonus game at Monopoly on the money works
You trigger the bonus game when you hit 3 or more "free spins" symbols during the normal game. The free spins symbols are available on all 5 reels and the more symbols you hit the more free spins you receive.
3 Free Spins symbols – 10 Free Spins
4 Free Spins symbols – 15 Free Spins
5 Free Spins symbols – 20 Free Spins
When you trigger the bonus game you receive the free spins. But with the extra "gamble" feature you can collect more or less free spins. In my movie (above) I triggered 15 free spins and I tried to gamble to 20 free spins but I lost. So I received 12 free spins in stead of 15. In the bonus game you have an extra symbol, The Monopoly Man. When you hit that symbol and there is Monopoly money on the reels you receive all the multipliers. When you bet €0,50 per spin you receive 50% of the total multiplier amount. As you can see in the bonus movie I hit a few Monopoly Man symbols but I only once managed to hit a money win. With the 20x multiplier I won €10 on that spin.
On the reels you find multipliers up to x50. And when you hit two Monopoly man symbols you multiply the multiplier 2x. At the bonus game you can multiply up to a few hundred times. There is no possibility to collect extra free spins during the bonus game.
Play Monopoly
Big Bet option when you want to play with high stakes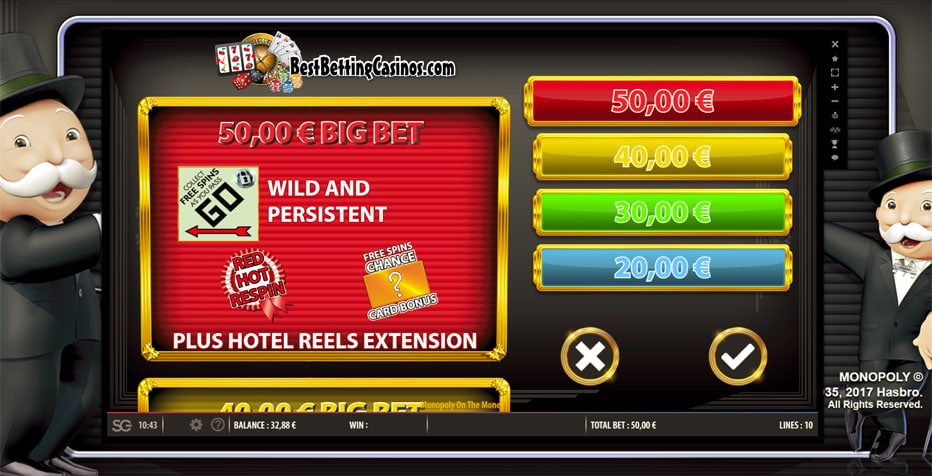 If you want to play with high stakes or when you are feeling lucky, you can try the Big Bet feature. When you open the big bet feature you can decide to make a number of spins with high stakes. You can chose a €20 up to €50 big bet. The more you pay the more features you activate during the big bet spins. At the end of every Big Bet you receive a "free chance card" and you receive the bonus or money on the card you picked. During the big bet spins the Free spins symbol is persistent and wild. During the Big Bet feature you have the following extra features
€20,- Big Bet – Scatters are wild and persistent till the end of the Big Bet spins
€30,- Big Bet – Red Hot Respin added and you receive a chance Card Bonus at the end of the game
€40,- Big Bet – Extra is the House extension
€50,- Big Bet – Extra on top of all features is the Hotel Extension
Try the game today at Videoslots Casino and receive €10 free play money
Try Monopoly on the money at reliable online casinos with a welcome bonus
My first experience with Monopoly video slot was not the best one. But I continued playing the game the days after I made the movies on this page and I started to win more and more during the free spins feature. I am sure that the game is interesting because my colleague triggered the bonus game 6 times within half an hour. And he managed to win over €200 with only a €0,50 bet. I guess it just wasn't my lucky day when I played the game. If you like to try the game you can join one of the casinos in the underneath table because they all have the WMS game portfolio at their casino.
In the table you also see the available bonuses at the casinos. As you can see there are a few casinos that offer you free play money when you join their casino. This is a free chance to play Monopoly on the money video slot.
My review of Monopoly on the money video slot
After playing a while at the game I am pretty happy with it because the game offers excitement and a lot of funny features. Underneath you find my personal Monopoly on the money review
Funny game with a few nice features
You can already start playing with €0,10 per bet
If you want to hit it hard you can bet up to €500 per spin
The bonus game is exciting (when you don't hit a €0,00 bonus game like I did)
With the big bet feature you can activate a few more interesting symbols and possible winning options
The multiplier function in the bonus game gets you on the edge of your seat
Sounds and graphics are perfect and not annoying
Only 10 winlines
The Monopoly symbol is in my opinion a useless symbol because you never win a prize with it
The gambling your free spins amount feature is one of my favorites
Click here to try €10 free at an online casino.
Open Casino
Our top 10 online casino overview
On our website we only show online casinos that are safe and reliable and we do not write about rogue and blacklisted casinos or companies. We only want the best for our visitors because we think we need to protect you from the frauds on the internet. If you have a doubt about a certain casino, don't play at that casino. In the underneath table you find the casinos from our top 10. All the casinos in this list are 100% reliable and safe. we tested them all and we know the owners of these casinos. So when there is a problem we are there to solve this problem. But of course we hope there are no problems when you start playing at one of those casinos.
CASINO
REVIEW
BONUS
RATING
REGISTRATION
PLAY
Videoslots


T&C Apply

€10 Free + 11 Spins
100% Bonus

Not available
N1 Casino
€10 Free Cash
150% Bonus + 50 Spins
€10 Free
PlayGrand
50 Free Spins
150% Bonus
50 Free Spins
Dunder
50 Free Spins
200% Bonus + 180 Spins
50 Free Spins
One Casino
€10 Free Cash
100% Bonus
€10 Free
LeoVegas
€1600,- Bonus
300 Free Spins

Up to 50 Free Spins
21Casino
21 Free Spins
121% Bonus (€300,-)
21 Free Spins
Trada Casino
50 Free Spins
150% Bonus
50 Free Spins
Jonny Jackpot
100 Free Spins
100% Bonus
50 Free Spins
Casilando
10 Free Spins
€300,- + 90 Spins
50 Free Spins